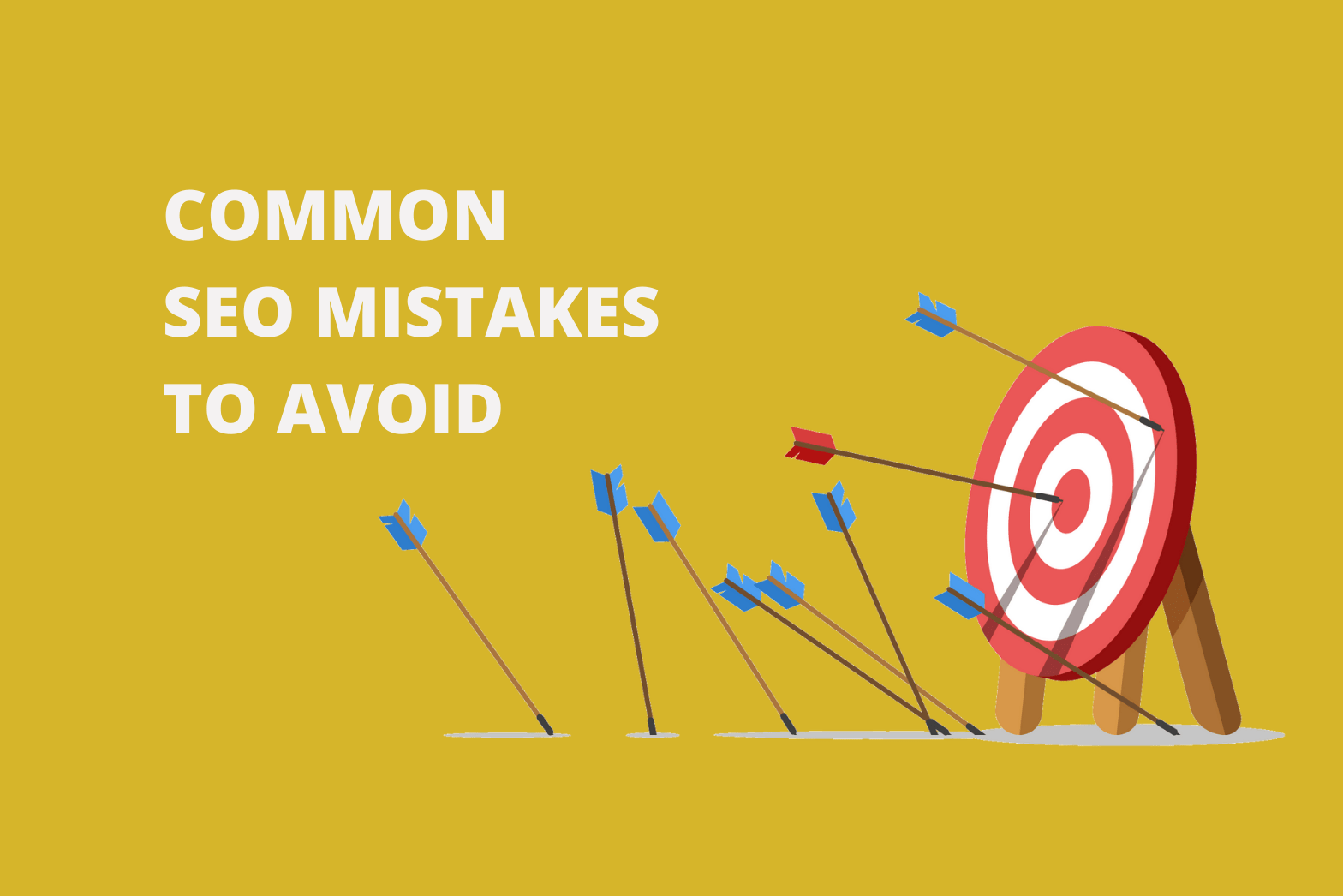 July 2, 2021 5:31 am
The Most Common 15 Mistakes Found While Performing SEO
SEO is a guaranteed marketing strategy that helps to raise the flow of organic traffic, but it is never easy to stay on the peak of the most successful optimization techniques. And when done incorrectly, recovering can be difficult and even more time-consuming. Below are some common SEO mistakes that you can avoid.
1. Keyword Stuffing
Keyword stuffing refers to the practice of placing irrelevant keywords or numbers on the website. It is an attempt to utilize the site ranking in Google search results. The website content should aim to educate, serve, and engage your audience. When you stuff your pages with irrelevant keywords, your audience might have poor experience and likely send users away from your page, increasing your bouncing rate, and driving potential customers from your business. In addition, this will not improve your chances of ranking higher. It will decrease them. You could hit with a Google penalty that removes your page from search engine results pages (SERPs) altogether.
2. Duplicate Content
Duplicate content is a substance that is accessible on various URLs on the web. In such cases, more than one URL shows similar content, and search engines fail to recognize which URL to list higher in the search results. In this manner, they may rank the two URLs lower and give preference to the other sites.
3. Ignoring Google My Business Listing
Google My Business gives you the capability to list your business area on Google Maps and nearby list items. You can highlight your important data about your business, including the opening/shutting times, contact details, or a link to your website. Moreover, Google has also released a new feature allowing you to post a link to articles or up-and-coming events.
4. Poor Page Speed and Response Time
Google will inflict a penalty on your page's search rankings if there's an indication of poor user experience, including slow page load time, faster sites get more SEO boost. According to Google Webmaster, faster sites not only improve user experience but also reduce operating costs. Like us, our users give a lot of values in speed — that's why we've decided to take site speed into account in our search rankings."Therefore, having a faster site will improve your SEO rankings, and the higher your site is on Google, the more organic traffic it will get.
5. Using Black Hat Methods
The major Black Hat SEO include
a. Content Automation
b. Doorway Pages
c. Hidden Text or Links
d. Keyword Stuffing
e. Sneaky Redirects
f. Cloaking
g. Article Spinning
These methods can lead to lower search rankings or even cause a site to disappear from search results entirely. Because black hat SEO techniques go against search engine terms of service, search engines might inflict a penalty or even ban sites from displaying on their search results pages or their search results pages if they engage in these tactics.
6. Considering Link Building Optional
Building links is one of the many tactics used in search engine optimization (SEO) because links signal to Google that your site is a quality resource worthy of citation. Therefore, websites with plenty of back links tend to earn the highest rankings.
7. Forgetting Mobile Users
Google's all-important algorithm prioritizes mobile-friendly websites. Google knows that most people are online using mobile devices, so they want the majority of their users. By optimizing your website to be mobile-friendly format and content, your SEO content will be more effective, and your site will rank higher in search results when respective clients use your keywords and phrases in search. Whether your clients are searching on desktop or mobile, your mobile-friendly site will make Google happy and help your site rank well.
8. Missing Quality Links
Link building is a significant part of SEO services because it helps search engines to discover new web pages and determines how well a page should rank in the SERPs. Google says that"In general, webmasters can raise the rank of their websites by creating the fine-quality sites that users will want to use and share."
9. Forgetting Analytics Tools
Analytics plays a crucial role in SEO. It can help to understand whether or not your website is performing optimally for search, what is generating traffic and what isn't, and where to invest your time and money.
10. Lack of Social Media Interaction
Although social media is not a ranking factor, it has a connection with search engine optimization because it can be used by sharing the links of your landing page. So, as the sharing continues, several people could link back to your posts. Collectively, the shared materials could increase your blog content traffic and SEO ranking.
11. A Poorly-Designed Landing Page
Assume that your landing page is poorly made then, yes! It affects your SEO. If the user searches for your keyword and gets to your page and sees no value, they will bounce. So, this is not going to help by any means. Make sure your page loads fast and provides value to the visitors and must have a clear call to action if you are looking for a conversion.
12. Using Irrelevant and Ugly Images
Low-quality images will appear distorted, which will make your site look shabby. In the case of image sizing, be sure that the display size and the actual size of the image are very close because you could be damaging your site speed if you upload unnecessarily large images.
13. Not Using ALT Tags for Images
Setting alt text for images is very important for SEO and is a contributing search engine ranking factor. Alt tags contribute context to what an image is displaying, informing search engine crawlers and allowing them to index an image correctly.
14. Not Replacing Broken Links
Visitors who follow the link are interested enough to read it. But if it appears to be an error page due to a broken link, they might be disappointed. Thus, a lot of broken outbound links can harm your SEO.
15. Not Updating Older Content
Google is eager to provide fresh and relevant to its users. Thus, updated contents rank higher than older ones. So it is better to renovate the old contents frequently.
Building a website without SEO is like building a road without direction. Making a mistake is found to be normal, but correcting it soon is the best approach that you can make. This blog completely focuses on the common mistakes repeated due to carelessness. If you want your business to have a special hike, you could consult the best digital marketing company in Kochi for perfect SEO services.
Recent Posts